Posted on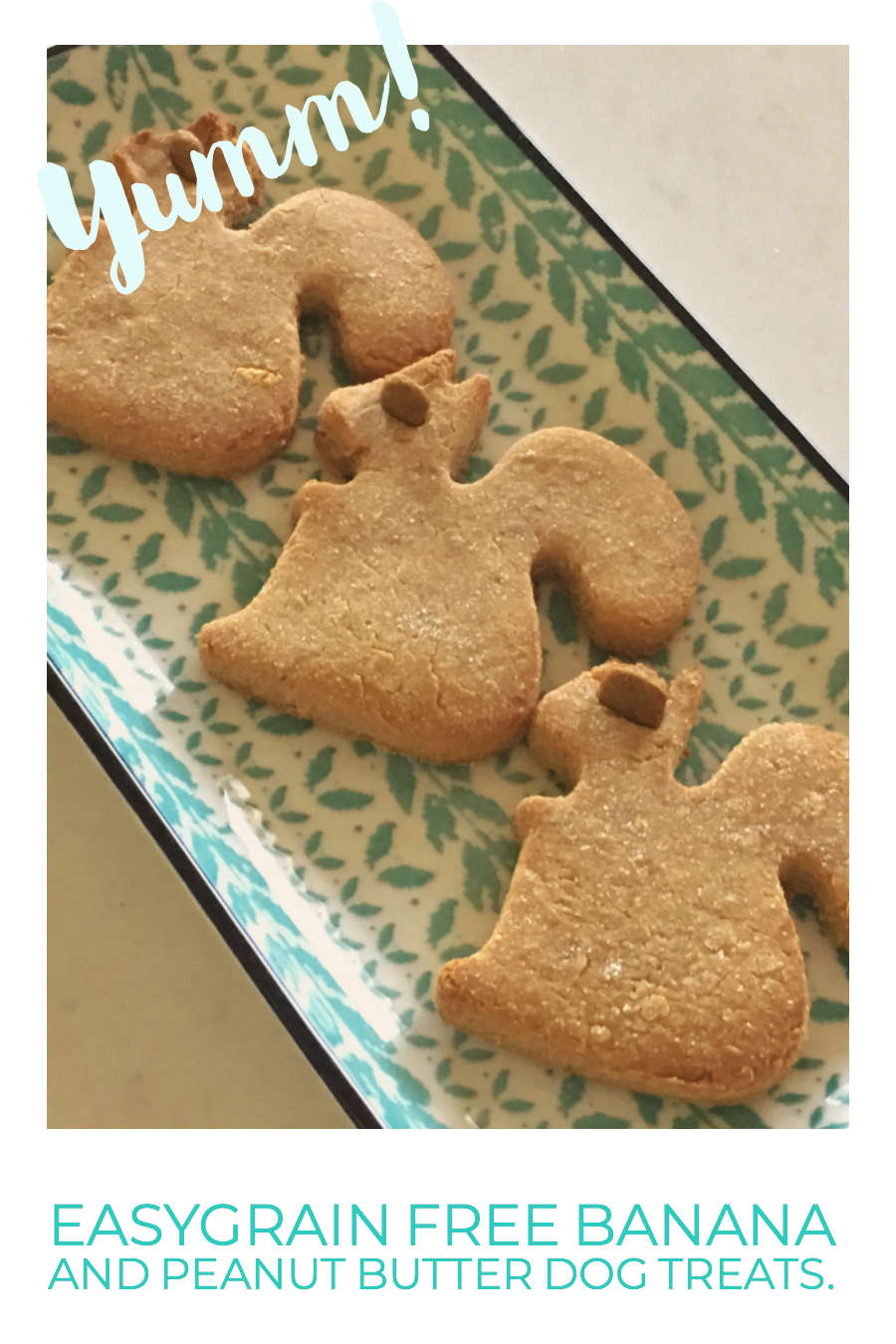 1 cup of coconut flour (I use a slightly heaping cup and squish it in).
2 large eggs.
1 cup peanut butter - please see important note below.
1 very ripe banana, doesn't look pretty, but it's sweeter!
Preheat oven to 350 degrees.


In a large mixing bowl, soften the peanut butter, then add the eggs and banana.
 
If you didn't use a lot of the peanut butter oil, you might want to add some coconut oil to make the mixture smoother, I added a heaping teaspoon.


Add the flour.  Coconut flour absorbs a lot of moisture, so this one cup will go a long way.  We'll be adding more into the mix when we roll out the dough, so it's okay if it's a bit sticky now.
Dust your counter in coconut flour. Roll out your dough to around 1/8 inch thick and cut out your super cute treats!
Bake for 20 minutes (time may vary depending on the size of biscuit) on a baking sheet. I like to use parchment paper, but it's up to you.  

If your pup is missing teeth, or otherwise has a hard time chewing hard biscuits, reducing the baking time by a few minutes will result in a softer biscuit.
You'll want to let the biscuits cool before giving them to your puppy, but by then you should have attracted some attention, as they smell divine!  

This recipe makes 22 squirrels.
 Be careful when you buy it!

You'll want to choose one that doesn't contain sugar, or even worse, artificial sweeteners or preservatives.  Xylitol is very toxic to dogs.

You want the peanut butter that contains just peanuts, or just peanuts and salt. 
The oil in this butter separates. It doesn't have the added ingredients keeping it together.  It requires some mixing elbow grease to use (which is why I just add the coconut oil instead) but worth the effort for your dog's health.  

One last note, these natural peanut butters need to live in the fridge once opened, unlike their chemical-filled cousins.